Gulaab Bagh: A Contemporary Indian Wedding Lookbook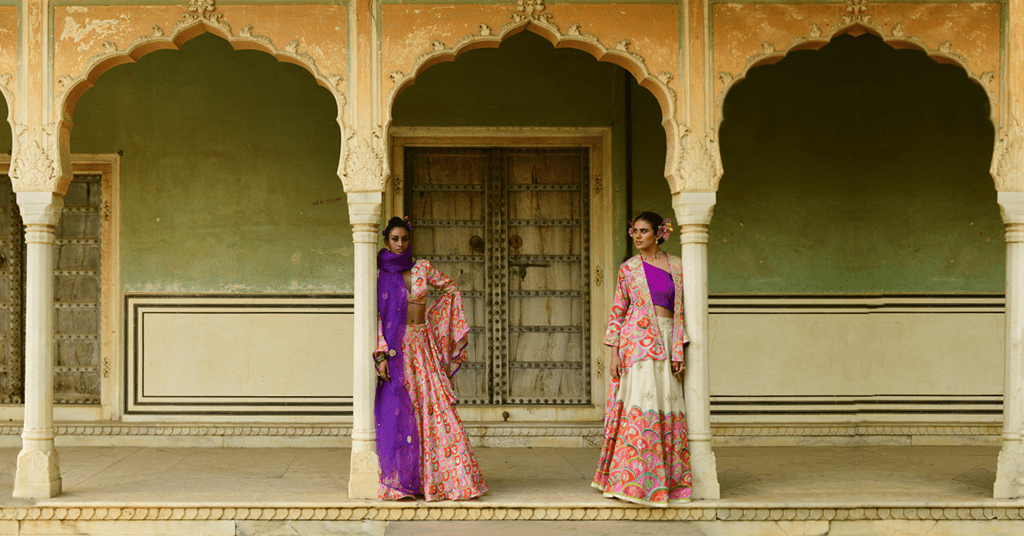 Wedding Bells are the most mystical chimes in our lives. It's an overwhelming yet extremely exciting trail of joy! And above all, it's the favorite season we all Indians cherish throughout the year!
The feeling of warmth, the love in the air, and the synchronized clinks of glasses while the dear ones raise a toast. However, all these emotions are overpowered by the typical modern wedding destinations! Being the star of all wedding trends, destination weddings are a bit of hard work for picking the perfect outfits for brides and bridesmaids.
Hence, Swati Vijaivargie presents a collection inspired by the Mughal Gardens of India. Gulaab Bagh, a home away from the real world, untouched by life's nuances. With the sight of floral bliss and the melody of birds, this collection is an amalgamation of creative spices with contemporary Indian silhouettes. It is a portrait inspired by the colorful strokes of morning dews setting on flower petals, shining greens of parrot feathers, and bright sky blues.
Whether the wedding location is the golden hour at the beach or typical picturesque Indian forts, Gulaab Bagh is curated to fill your contemporary Indian wedding wardrobe with love for beautiful art, architecture, and frescoes.
The Fusion Sharara Sets
Fusion Sharara Sets are trendsetters for contemporary Indian weddings. One can experiment with the versatile look by just adding little details of modern Indian silhouettes.
Featuring the experimental color palette of our Sharara Sets.
The Chic Dress Closet
Dresses with hints of traditional silhouettes are perfect for Haldi and Mehendi functions. They are hassle-free and easy to style.
Featuring asymmetrical dresses for the ideal bridesmaid look!
The Classic Lehenga Sets
The wedding closet cannot be completed without fusion lehenga sets! With sparkling swirls and dazzling details, these lehenga sets have a contemporary approach.
Featuring charming lehenga sets for brides and their bridesmaids.